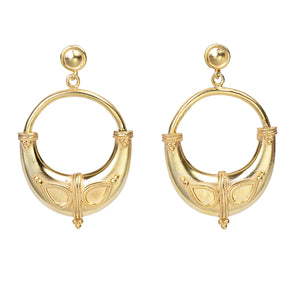 SOLAR EARRING
STERLING SILVER
Regular price Rs. 6,695.00 Sale
Powerful like the gleaming rays of the sun, these earrings will bring light to any outfit. 
PRODUCT INFORMATION
Material : Sterling Silver , 18K Gold Plating
Dimensions (L x B) : Approx 5.5 x 3 cms
Weight : 20 grams
All jewellery is made of 92.5 Silver. Please refer to care instructions for maintaining the jewellery at it's best. 

CARE INSTRUCTIONS: 
Silver will tarnish naturally and plating wears off over time. Taking good care of it can help prevent it from over oxidisation.
Regularly wipe the jewellery with the silver polishing cloth
Store in cool and dry place , preferably in the sealed plastic pouches
Avoid contact with liquid  
For  Re-polishing services contact us on info@shopkichu.co.in
DELIVERY : Our products are made by hand. We request you to be patient with us and allow us 2 weeks from date of purchase to dispatch your items. For any special request you may contact us on info@shopkichu.co.in